warranty
We are proud of our finishes and are proud to stand behind them.

Our ultimate promise to you is that we work hard to create seriously durable, grain-filling finishes. We really do care about your happiness with our product and service. We want to hear from you any time you have questions about care or maintenance. Please contact us. We stand behind our finishes, expect them to last and will make every reasonable effort to make you happy.

Limited 10-Year Chip-Free Warranty:
Classic Cupboards™ warrants its finishes, to the original purchaser, to be free of chipping under normal use (with exceptions as indicated below) for a period of 10 years from date of installation.

This limited warranty does not cover chipping caused by:
-accidental dropping or banging of any object against the cabinet surface (i.e. kitchen knives, pots and pans, etc.)
-repetitive sliding or scraping of an object across the cabinet surface (i.e. slide-out drawers, trash cans, cabinet door hardware, carousel doors, pet damage)
-structural cracks that may appear over time from cabinet repairs, settling, etc.

This limited warranty covers chipping only (with exceptions indicated above) and does not cover stains, spills or any water damage, nor any damage resulting from misuse, abuse, negligence or improper cleaning products and/or methods.

If you need service (even beyond the warranty), PLEASE DO contact us. We promise you'll always hear back from us by the next business day.
care & maintenance
Our Classic Cupboards™ finish process results in a durable painted surface that is easy to clean and maintain.
care & maintenance kit
At the completion of your Classic Cupboards™ cabinet project, you will receive your personalized Care & Maintenance Kit. Inside this kit you will receive a spray bottle of Red Juice cleaner, a jar of soft wax and 2 pints of Classic Cupboards Paint™ from your specific batch.

So rest assured, we've got you covered down the road if the unspeakable happens (i.e. a new puppy) and your cabinet gets damaged and needs a fix.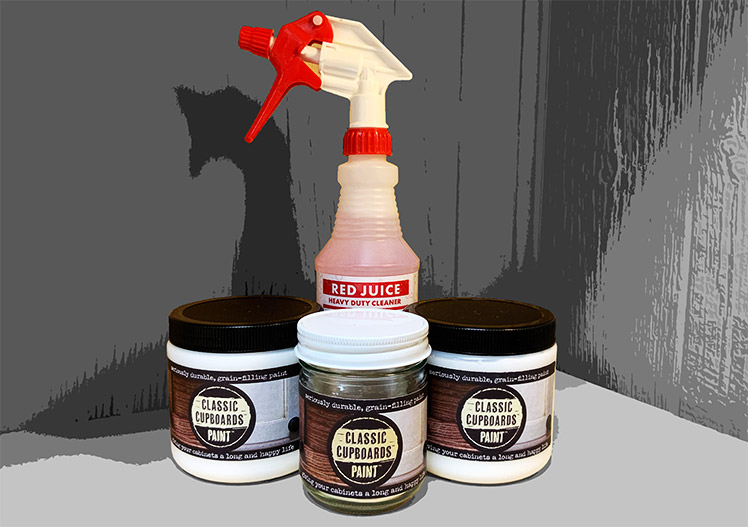 the first 30 days
It is especially important during the first 30 days to keep your cabinets clean and dry. Your Classic Cupboards™ finish has 11–14 layers. It takes about 30 days after the completion of your cabinet project for all of the paint and wax layers to fully cure and harden.

Note: Humidity and heat prevent the paint and wax from curing completely. Jobs completed in the summer months require air conditioning for proper curing.
about the wax sealant
Your Classic Cupboards™ finish has 3–4 coats of Classic Cupboards Wax™ which provide a tough water resistant finish designed for kitchens and bathrooms, however IT IS NOT WATERPROOF. If allowed to remain on the surface, water, grease, harsh household cleaning agents or acidic liquids like coffee or wine will break the finish, thus leaving permanent discoloration or damage.

To maintain a protective coating over your painted finish in high use areas, such as around the sink, stove and pull-out trash can, occasionally you will want to apply the soft wax with a paper towel and buff to a shine.
important steps to protect your finish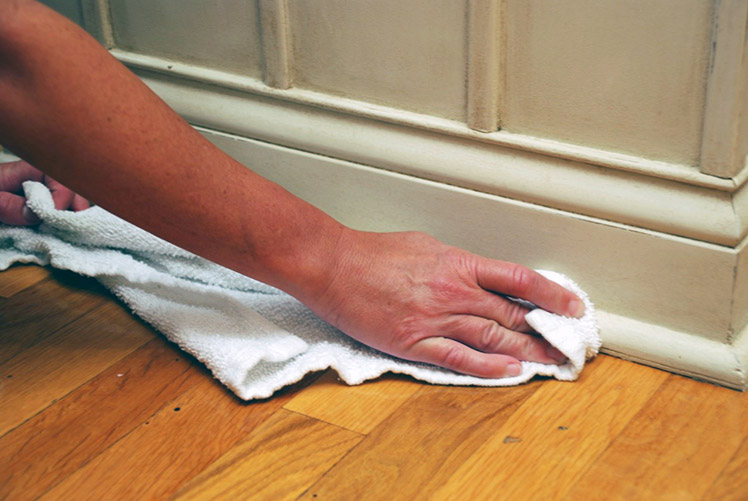 Dry off liquids immediately with a clean dry towel.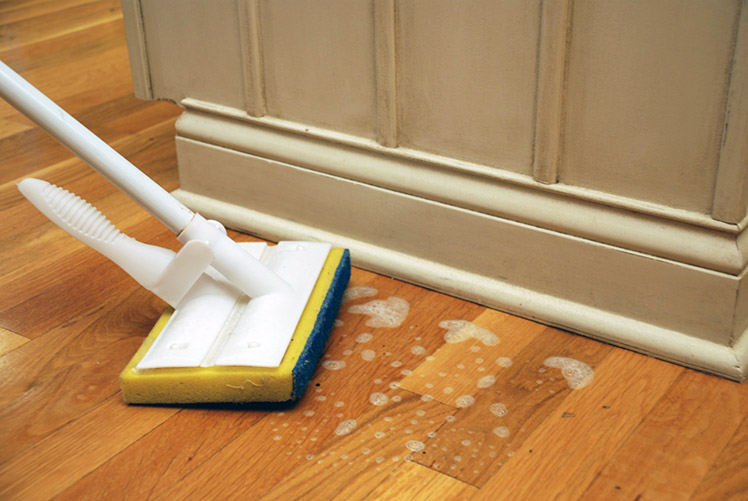 When mopping the floors, dry off all painted baseboards.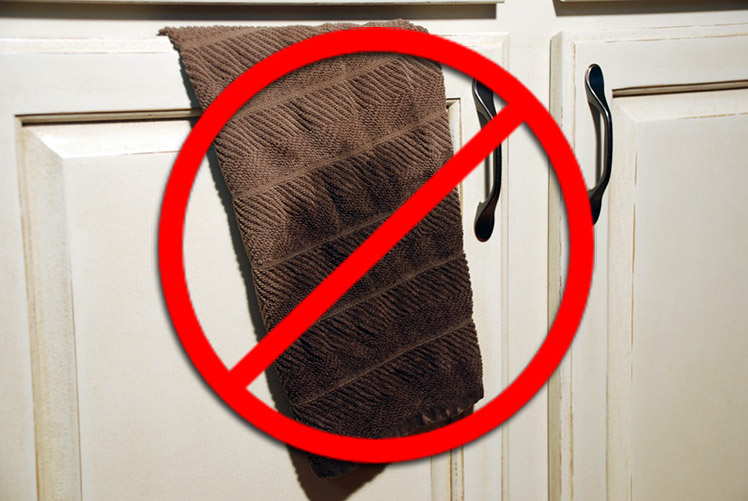 Do not hang wet washcloths or towels on the painted surface.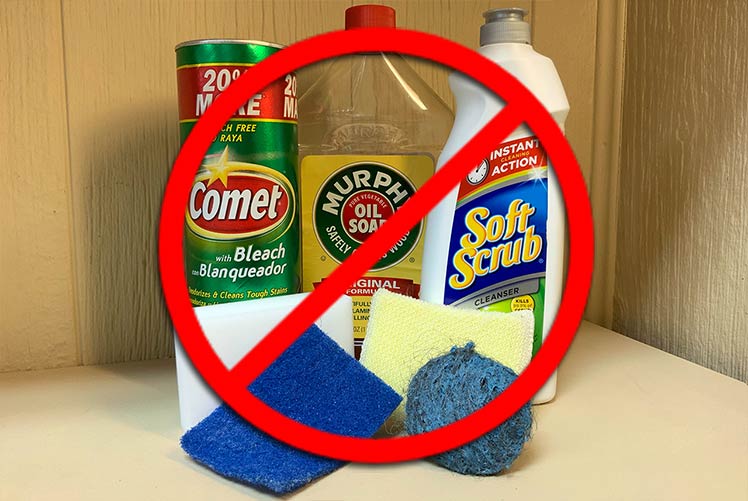 Do not use abrasive or harsh household cleaning products.
how to clean food spills & grease splatters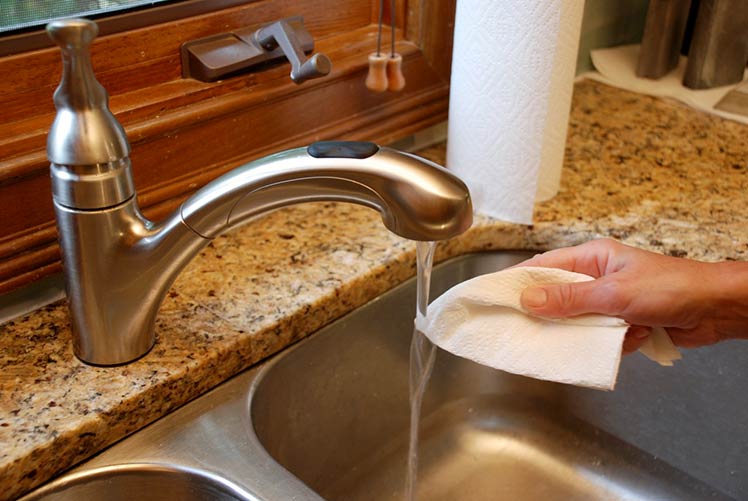 It is important to clean up spills as soon as possible after they occur. To wipe away food spills, use warm water on a paper towel, then dry the area with a paper towel or soft cloth.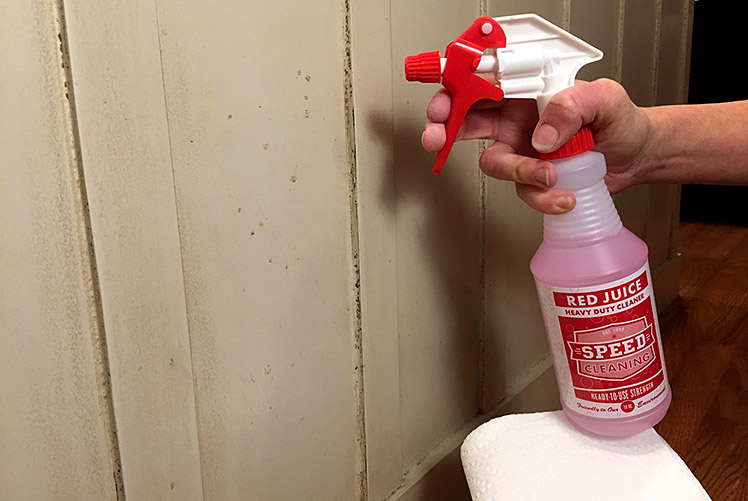 To clean greasy splatters or spills, we recommend the Red Juice from your Care & Maintenance Kit, an all natural seaweed-based cleaner and degreaser that is FDA approved for safe use around food.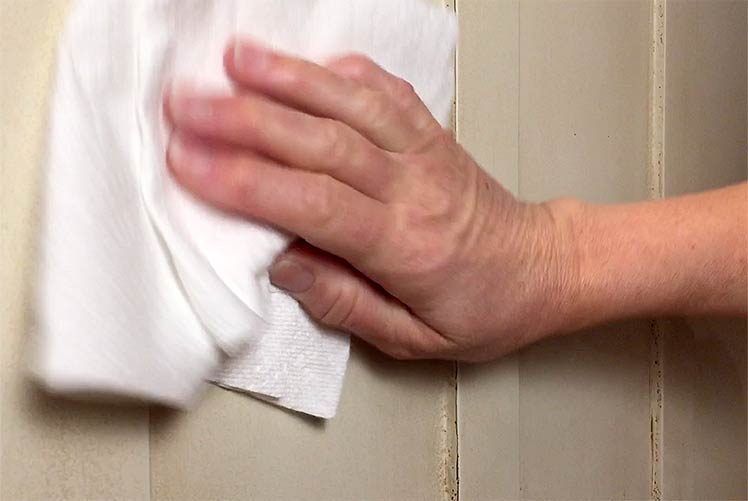 Simply spray the cabinet or paper towel with Red Juice and wipe away the grease and grime.
how to clean scuff marks
Light colored cabinet finishes will tend to show shoe scuff marks, gray marks from pots and pans or belt buckles and jewelry, pencil marks, even blue marks from new denim clothing. To magically remove any of these marks, use a little Classic Cupboards Wax™ from your Cabinet Care Kit. To remove a scuff mark, put a small amount of wax on a paper towel and rub the wax over the mark back and forth until the mark disappears. Buff the area with a clean paper towel. This video shows you how to do it.
To remove a stubborn scuff mark, put a small amount of wax on a soft toothbrush. Gently scrub the toothbrush back and forth. Wipe away the excess wax and buff the area with a clean paper towel. This video shows you how to do it.